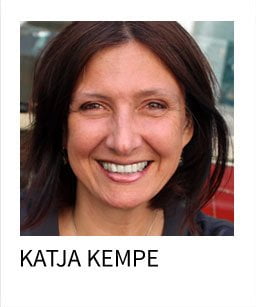 The award-winning jewelry designer with a diploma Katja Kempe is the founder and the heart of the Cologne Schmuckakademie, and has expanded the akademie into Frankfurt. For years, she has been creating jewelry with passion: unique pieces, high-quality small jewelry series and individual custom designs. Her classes are fun and exciting. She is an expert teacher and draws out creativity in everyone- whether or not they have experience.
Member of the FFSD
(Forum for Jewelry and Design)
Vita
Vita
1988 Graduation
1988 – 1992 University of Cologne, Media Design
1992 Stage assistant at the Schauspielhaus Cologne
1993 – 1995 Goldsmith training
1995 – 2001 Studies at the University of Applied Sciences Düsseldorf for design and jewelry design
2001 Product Designer, Mawa Design Potsdam
2002 – 2003 Works Director
2003 Gallery 99, together with the fashion designer Nadine Wiesner
2005 Teacher for jewelry design at Kum & Luk and the Jugendkunstschule
2005 Opening of the Kölner Schmuckakademie
Freelance artist since 2011
2011-2015 Art studies at Artefact Bonn
2014 Master class, work as a freelance artist with international exhibitions (www.alles-ist-gestaltung.de)
2015 Graduation "master of fine arts" Artefact, Bonn
2020 Opening of the Frankfurt Academy of Jewelry
Since 2016 Katja Kempe has been giving goldsmith courses at the MaKK in Cologne
Ausstellungen
Publikationen
The film about the jewelry academy
SCHMUCKAKADEMIE
Cologne & Frankfurt
For more information about current courses and promotions – register here!