Workshops and weekend courses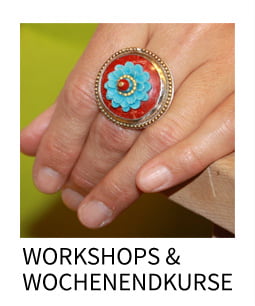 In small groups and in a pleasant relaxed atmosphere you will learn how to develop and implement jewelery ideas. You will learn how to saw, braze, file, edge stones and we will introduce you to the craft of a goldsmith.
Events
Saturdays from 11:00 am to 4:00 pm:
Intense goldsmith workshop until your unique piece of is finished.
Workshop appointments: every Saturday of the month
Workshops on special topics
Silver casting we make molds from a special wachs. The hot silver/ gold is poured into sand or sepia.
Costs
120,- € – 150,- € depending on course offer, plus material
Vouchers for courses are available in the shop or online.
Registration
Prepayment 120,- € – 150,- €
Booking conditions: for cancellations up to 10 days in advance, 50% will be refunded after that we must deduct the amount.
Material costs depend on consumption, ask for prices.