Forging wedding rings in Cologne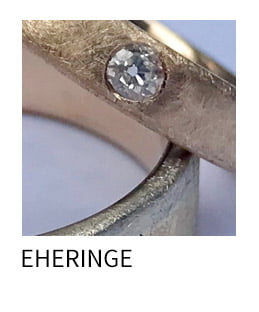 The rings for life
Whether you marry or say "yes" to each other in any other way – why should these rings come off the rack? Make these rings yourself – as individual as the story that has you led to say "yes."
With help and guidance of professional and experienced goldsmiths, you will craft rings that have a very special meaning and will make you proud and happy. Brilliants and other stones can be worked in. We work with a gemstone collector and we prefer to work with recycled gold and fair trade gemstones.You can melt and use your old gold as well.
Events
The course with a maximum of 2 couples includes a detailed preliminary talk and requires a Saturday or a date by appointment, at which the rings are completed.
Costs
Per participant 150, – € plus material
Dates by appointment.
Free preliminary talk and cost estimate of the daily rate, so you know exactly what to expect.
We handle your rings to an engraver.
Vouchers for courses are available in the shop or in advance plus 5, – € shipping.
Registration
Prepayment 150, – € per participant
Booking conditions: for cancellations up to 10 days in advance, 50% will be refunded after that we must deduct the amount.
Material costs depend on consumption, ask for prices.