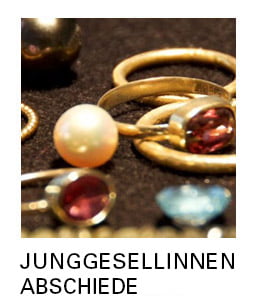 Each participant can make a pendant or a bracelet to memorize this special day, or beautiful piece of jewelry for the bride.
Events
Appointment upon agreement.
Costs
50,- € course fees per person, incl. Drinks, coffee, tea, water and a bottle of sparkling wine.
The material such as freshwater pearls, silver rings, silk ribbons, pearl of Murano-glass etc. as a flat rate for a noble bracelet or pendant costs 35,- € per person.
Alternative if 2 persons making a jewel for the bride the costs for the material will charged separately.
Vouchers for courses are available in the shop or online.
Registration
Prepayment 50, – € per participant
Booking conditions: for cancellations up to 10 days in advance, 50% will be refunded after that we must deduct the amount.
Material costs depend on consumption, ask for prices.