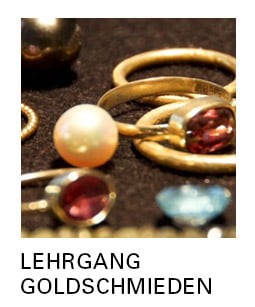 The course provides basic knowledge of gold and silversmithing.
The participants learn to make their own pieces of jewelry, basics of different techniques and the accompanying documentation of individual work steps. Own sketches are discussed in the course on their technical feasibility out and then implemented under guidance. In the process of making the jewelry, which is done in silver and possibly other metals / alloys, participants will learn about some of the classic goldsmith techniques such as sawing, bending, soldering and edging stones.
The total duration of the block lesson is 52 lessons.
Certificate
At the end of the seminar, the participants will receive a certificate, which will be completed by their own documentation and images of the resulting work.
Course contents
The curriculum covers the basics of crafting metals.
The following topics will be taught: materials science, production techniques and basics of gemology.
In the practical lessons the participants learn how to handle different materials, tools and techniques. In addition to the introduction to old craft techniques also modern technologies and their applications are treated. Material science, surface techniques, stone science – meaning of the gems, writing and writing stamps as well as drawings and documentation are included. Assistance with the production of an application folder.
Events
Duration 52.0 lessons
And by appointment every first Monday of the month
School hours
Mon 11: 00-16: 00: Start, one-to-one meeting, goal formulation and determination of the different work samples to be prepared.
Tue 10:00 – 12:30: group course, 16:00 – 18:00: discussion and independent work with assistance
Wed 16:00 – 18:30 and 18:30 – 21:00: 2x group course
Thurs. 11:00 – 13:00: one-to-one lessons
Fri 11:00 – 13:00: discussion and independent work with help
Sat 11:00 – 16:00: group course
Mon 11: 00-16: 00: one-to-one tuition intensive
Tue 10:00 – 12:30: Group course, 16-18 hours self-employment
Wed 16:00 – 21:00: group course
Do. Final discussion and certificate
Costs
Course fee: 1.800,- € plus 19% VAT
Minimum material costs: 120,- € plus 19% VAT.
Vouchers for courses are available in the shop or online.
Place
Jewelery Academy Cologne
Maria Hilf Str.4
50677 Cologne
Tel: 0221-1681766