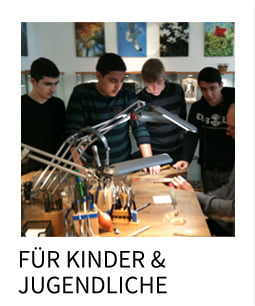 Sawing, filing, drilling, hammering in the jewelry workshop for children and adolescents
You can make your own jewelry ideas out of metals like brass, copper and silver. There may be pendants, rings, or bracelets. Medieval knight crosses, petite fairy bracelets, or friendship rings as you please.
Previous knowledge is not required.
The course is graded into several difficulty levels. Soldering with the flame and the gripping of semi-precious stones are added after some experience.
Children's birthday
2 hours cost 150,- € plus 5,- € material per participant.
Maximum 6 participants Dates by arrangement
Vouchers
Vouchers for courses are available in the shop online.
Registration
Prepayment 150, – € for 2 hours
Booking conditions: for cancellations up to 10 days in advance, 50% will be refunded after that we must deduct the amount.
Material costs depend on consumption, ask for prices.