Goldsmith workshop in Cologne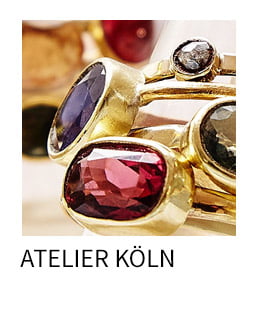 "Open Factory"
In small groups and a pleasant relaxed atmosphere you will learn how to develop and implement jewelry ideas.
You will learn how to saw, braze, file, edge stones and we will be introduce you to the art of a goldsmith.
Events
Tue: 11:00 – 13:00
Wed: 18:00 – 20:00
Ongoing
Prior knowledge is not required – gift certificates are available
Costs
Per course 50,- € (2 hours) plus material, max. 4 Persons.
When booking 4 courses in a row you will receive a 10% discount
Vouchers for courses are available in the shop or online.
Booking conditions: for cancellations up to 10 days in advance, 50% will be refunded after that we must deduct the amount.
Material costs depend on consumption, ask for prices.